Hunting for Sasquatch 2016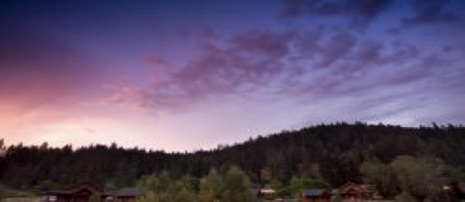 "All around us," Knut said quietly, there are peaks that belong to eagles, and valleys where animals aren't afraid of men.  There's mystery and treasure, adventure, danger, and quiet that stretches from earth to sky."

(Trixie Belden & The Sasquatch Mystery p 22)

The camp had been set up in a parklike glade beside Champion Creek where it tumbled down a steep, narrow gulch.  Sounds were funneled to the campground as if through a megaphone: a series of grunts, barks, and wails…a sharp whistle…a coaxing suka, suka.  Then, after a breathless wait, a long, drawn-out agoouummm.

(Trixie Belden & The Sasquatch Mystery p 20)

At that moment, an eerie cry that originated at the head of the canyon hit unseen cliffs and echoed endlessly: fleep…fleeoweep-p-p!

(Trixie Belden & The Sasquatch Mystery p 23)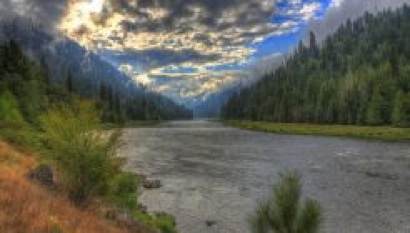 Hunting for Sasquatch 2016

I will be honest:  I love nature, but I am not much of a camper.  I like running water and flushing toilets.  So I though maybe this would be a good twist on Trixie Belden and the Sasquatch Mystery.

River Dance Lodge is located in Syringa, ID, and if there were ever a place I would chose to hunt the big guy, this would be it!  From "Glamping in tents" and both small and large cabins (like Tank's?), this all-inclusive lodge is great for campers and not-so campers of all kinds.

This is the plan:

Arrive on Thursday. A four-day/three-night Wild West getaway experience with all-inclusive activities, food and fun! We'll explore the Middle Fork of the Clearwater on raft and kayak, maybe visit historical Nez Perce sites, see beautiful vistas of the Bitterroot Mountains and relax as you listen to the river go by. We will spend our three days camped in the beautiful wilderness of Idaho.  We can hike, bike, swap ghost stories, and maybe even make fudge around the campfire (Bear cubs not recommended or guaranteed). 

A Search for Sasquatch Scavenger hunt.

Fun! Food! Friends!

River Dance Lodge is a little remote, and transportation is not included.  It is about 117 miles SE of St. Joe's National Forest—where the Bob Whites camped.

* 90 miles east from Lewiston, Idaho

* 190 miles southeast of Spokane, WA

* 240 miles north of Boise

* 130 miles west of Missoula, Montana

The nearest airport is in Missoula, MT. Lewiston, ID has a regional airport as well.  Both are about two hours away, and transportation is not included.  So, you will get to take a beautiful drive to get there--just like the Bob Whites did!

So, what are the accommodations for this camping trip?

All prices are per person, and include lodging, all meals from Thursday night through Sunday breakfast, and two guided activities.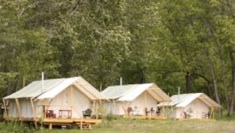 Glamping (holds 2 people)

1 person - $613

2 people - $440.50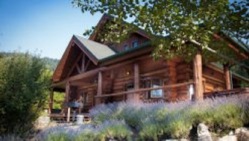 Small Cabins (holds 4-6 people)

1… $1045.00

2 …- $656.50

3 ... - $527.00

4 …- $462.25

5… - $423.50

6 …- $397.50

Large Cabins (holds6-10)

  6 - $447.50

  7 - $422

  8 - $402.75

  9 - $387.67

10 - $375.70

Camping in the woods of Idaho.  Searching for the illusive Sasquatch.  Who knows, maybe we'll run into the Beldens and the Bob Whites.  One never knows.  Magical and mysterious things can happen in the wilds of Idaho!